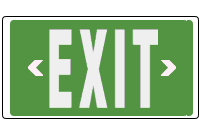 With it's self-luminous tritium power, easy installation and sleek design, the Luminexit (B100) self-luminous exit sign is revolutionizing the emergency exit industry.
Today, businesses have to do more with less resources, so SRBT has created an emergency exit sign with up to twenty years of maintenance-free life. This self-luminous sign will maintain its illumination day in, day out, for up to twenty years depending on the initial illumination selected. This maintenance-free operation is why many building owners specify Luminexit: it saves them money while providing reliable, safe passage.
Luminexit is vandal resistant, waterproof, explosion proof and incapable of generating sparks. Wherever architectural integrity is a priority such as schools, hotels, office buildings, banks, theaters and restaurants, or harsh and dangerous environments such as offshore oil rigs, mines, refineries, munitions plants, and chemical factories, Luminexit is the sign of choice.
SRBT built its foundation on quality, service, and customer satisfaction. In continuing with this tradition, SRBT is the only company in the world that recycles/reclaims the tritium gas in old signs. When an exit sign reaches its expiration date, SRBT will recycle the exit sign as part of our service to the customer.
When you specify Luminexit, you can be confident that you have installed the very best in safety, providing building occupants with reliable safe passage.
SPECIFICATIONS
Illumination source
Betalight tubes are manufactured from borosilicate (hard) glass internally coated with zinc sulfide phosphor and filled with tritium gas. No electrical energy source required.
Brightness
Minimum initial brightness at time of manufacture of 0.15 foot lambert. Brightness variation between letters does not exceed a ratio of 3 to 2 .
Construction
Cased in high impact ABS fire-retardant plastic. Legend covers: red, green, or black. Frame colors: Aluminum, white or black.
6" high letters with 3/4" stroke
Flush, Pendant or Flag Mount
Field selectable directional indicators.
Options
Wire Guard
Aluminum Frame
Polycarbonate Window
Recessed Mount
Institutional Frame
Pendant Mount
Single or Double Faces
Useful life
Up to 20 years based on initial brightness option selected.
Dimensions
Length: 396 mm (15.6")
Height: 218 mm (8.6")
Thickness: 28 mm (1.1")
Luminexit approvals
Underwriters Laboratories (U.L.) 924 listed
Underwriters Laboratories (U.L.)
NFPA life safety code 101
OSHA
NRC
City of Los Angeles
State of California